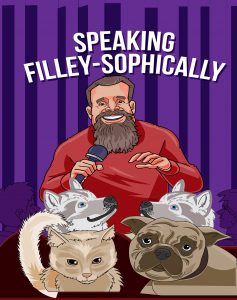 "Not only was Speaking Filley-Sophically engaging, heartwarming, and entertaining, but Chad promoted it well enough so that it was worthwhile for the venue, too. He is an artist that knows his audience and how to get them to show up!"
Ben Schultz, Camp Cabaret Stage Manager
Stand-up comedian Chad Filley's one-person show, Speaking Filley-Sophically, consisting of hilarious stories from the Minnesotans life, has brought recent comparisons to Billy Crystal's 700 Sundays. This show blends comedic tales with heartwrenching stories in booking shows for Winter 2018 and all of 2019.
Some of Chad's unforgettable stories include walking into the wrong delivery room at the maternity ward, suffering as his wife made a Sophie's Choice whether to bring him or her oversized canister of hairspray on a flight, and his claim of being the only person to ever twerk on the stage of the Grand Ole Opry during a show.
This can't-miss show, the product of a year-long mentorship with world-renowned storyteller/playwright Kevin Kling includes stories that will tug at your heart while others will make you laugh out loud.
Speaking Filley-Sophically, which debuted with a weekend run (April 6-8, 2018) at the Cabaret @ Camp Theater in St Paul, MN was an overwhelming success including a sellout performance.
Contact Chad if you have any questions.
To inquire about booking dates or more information:
(763) 742-3851