"I laughed so hard while reading this book I thought I would swallow my dentures."
—Steve K., Hooked on Phonics Graduate
If Chad A. Filley can offer you one piece of advice, it's this: "Never schedule a vasectomy on Take-your-daughter-to-work Day." Seriously, how much more practical does it get than that? Chad's vantage point on life will make you laugh and perhaps even teach you how to better succeed.
"Four out of five wives recommend this book."
—Brother G., American Polygamists United
The Renegade Teacher's collection of essays and observations brings his unique brand of humor to the pages, offering an education without ever entering a classroom. After reading this book you're certain to agree with Chad that wearing Spandex should be a criminal offense.
"If I could read, this would be my favorite book."
—Gust A., Stagebenders Improv Duo
This hilarious book is only $10 per book, plus 3.25 shipping… for a total of $13.25. Shipping rates will vary for multiple book orders. Anyone wishing to pay with a check or money order should email Chad: chadfilley@yahoo.com and send him a request.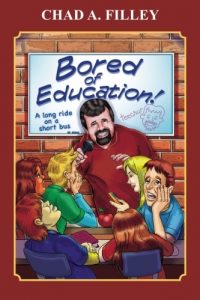 Anyone wishing to order with PayPal or a credit card should click the BUY NOW Button Below.
"Please buy this book because Chad needs to continue to support me in the lifestyle I've become accustomed to
. . . ABJECT POVERTY!"
—Chad's loving wife, Jane