Read essays written by Chad and articles written about him on this page.
Check out Chad's list of upcoming events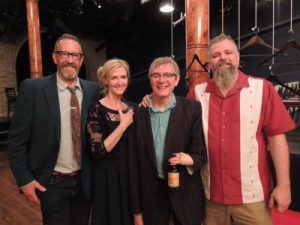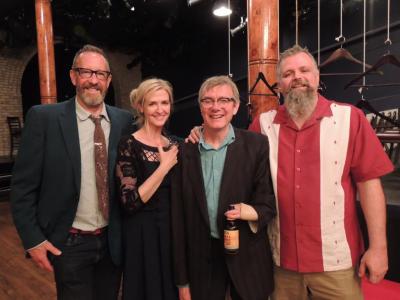 Storytelling
Chad has the unique ability to take everyday situations and spin them into side-splitting, laughter filled tales. Then like a master rollercoaster operator Chad will throw a sudden twist at his audience adding an unforeseen real-life turn. His blend of comedy, tragedy, and heartwarming accounts have left his audiences spellbound.
"Chad Filley was a great performer, he hit all the things in life that you should laugh about but don't. He interacted with the crowd and I could tell that it came natural and wasn't just an act."
Jenna Crawford

Brainerd Lakes Chamber
---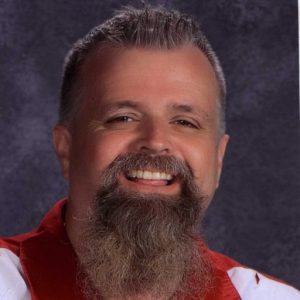 I'm sad to say that I had absolutely nothing to do with the greatest practical joke ever played on my wife. Seriously, it wasn't me. Instead, it was some cruel twist of fate. To tell this story I need to back up three years when my beloved agreed to have her long overdue mammogram.
Oh, it wasn't that easy to get her to agree to this modern medical exam which resembles medieval torture. No, in order to get her to agree to go, I had to agree to go in at the same time for my annual physical…something which has become less desirable since I passed forty. So we made our appointments at the same time and a month later we were both sitting in the waiting room staring at one another. I knew that she wanted to say, "Let's forget this and go get a cup of coffee." In this fantasy, I was the brave one and I looked her straight in the eyes and said, "No thanks, you know I don't drink coffee."
Simultaneously, Jane was looking at me hoping that I'd be the first one to crack and utter some words about backing out. Either both of us were too stubborn or the nurse called our names too quickly, but either way, we ended up going to the appointment.
From this point on I only know what my wife has told me about her adventure because I was busy fighting for my life in my own exam room. The one thing I do know is that the fire alarm went off midway through the exam, so we had to evacuate into the parking lot. Fortunately, I was dressed (unlike many who came out in hospital gowns). One of the gown bearers happened to be my lovely bride who pointed at me blaming me for pulling the fire alarm…which I didn't. Even a comedian won't go that far to get a laugh…or at least a married comedian who wants to stay married. I told her to be thankful they unhooked her from the machine and to laugh about it (because it was funny). To this day she's convinced that I bribed the clinic administrator into having the annual fire drill at this exact moment. Not a bad idea, but I hadn't thought of it.
Well, my wife is nearing another landmark in her life. She's hitting the Big 5-0…and I don't mean Hawaii 5-0. Fifty may be nifty, but it also brings the recommended colonoscopy, which she is dreading. One of her best childhood friends, Carolyn, works at a clinic that does colonoscopies, and Carolyn has really been applying the pressure to convince Jane to have the procedure done. I have to say I fully support her going in for the procedure, but I'm a little worried that it might get expensive. Not the procedure, but the bribe to get Carolyn to schedule the fire drill during Jane's colonoscopy.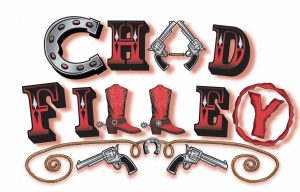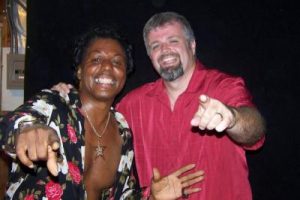 Corporate Clients
NW Realtor's Association American Polygamists United
Adventure Limousines Marshfield Clinic Cardiology
All-American Ag. Co-op Pequot Lakes Class Reunion
Ameriprise Alumacraft
HG Miegs Dudas Motors Bollig Engineering Rosenbauer, Inc.
Johnson Wilson Constr. Boulder Lodge SRO
Girl Scouts of America
Clayton Wis. Fire Dept.
Anoka-Ramsey Comm. College
Central Plains Agriculture Olson/Johnson Trucking Family Pathways
Cambridge Chamber of Comm.
Courtyards of Andover Impotence Relief Fund
Isanti Senior Citizen
Landmark Community Bank
Lymphoma Research Fdn
St. Patty's Day Spiel
Ridgewater College
Superior (Wisc.) School District
Michigan Ducks Unlimited
Hutchinson Eagles
Rice Lake Elks Lodge
MN County Attorney's Assoc.
Nimuu Glacial MN Woman Org.
Plainview Lions Almena (WI) VFW
Bemidji City Employees Baxter Same Day Surgery Northern Health Care Group
Truyu
Sandstone Federal Corrections Staff
Murray County Central Schools
MAI Animal Health
Patriot Ride
Northwoods Humane Society
Over the years I had heard rumblings of this mythical woman who journeyed through Minnesota with her two giant white hounds picking up after them each time they relieved themselves. Additionally, the lore paints this woman as a sort of modern-day Johnny Appleseed who goes around picking up dung left by other people's dogs too. Having walked in many parks, trails, and neighborhoods checkered with doggy droppings, I figured this woman is nothing more than an urban legend. Then I met Jane.
Shortly into our courtship, Jane asked me to go on a dog walk with her and her two white Malamutes. Soon into the walk, Kalvin (who is slightly larger than Clifford the Big Red Dog), stopped to poop and to my shock Jane reached into her jacket pocket, grabbed a plastic grocery bag, and scooped up the pile. She must have noticed my disgust or maybe it was the fact that yelled "Yuck," but either way, she knew I was disgusted.
I hadn't been this grossed out since my youngest son, Isaiah, was three-years-old and he threw up after eating some summer sausage.
Fortunately, his mother cleaned that mess up because if it would have been up to me I would have sold the house for $1 … as is.
"Wouldn't it be better to pick it up with a pooper scooper?" I asked.
"No, then you'd have to carry that along with you," she explained.
I couldn't help but think it would be better to carry along a tool that would make me look somewhat like the Transformer Optimus Prime rather than carry a bag on my hand and look like a doo-doo covered version of the Hamburger Helper glove.
Do people really do this? You don't see it happening in the movies. I've never once seen Hans Solo following Chewbacca around with an arm sleeve and a hefty bag.
"Chewie, this is the last time I let you order a seven-layered burrito!"
Of course, we know this isn't realistic because I'm pretty sure Chewbacca uses a litter box.
Jane then explained that if we were ever to get serious then I would have to pick up the dog's poop because it's irresponsible not to.
It was then that the words to the Meatloaf song ran through my head, "I would do anything for love, but I won't do that." It was at that moment that I swore I would never do that.
Well, three months later I was walking around the neighborhood with my stash of plastic bags "being responsible." I had never noticed until then how many people just think it's okay to let their dogs litter someone else's yard, a park where kids play or the sidewalks. I had changed my mind and become a responsible dog owner.
This didn't end the problems. What are you to do with the full bag dung when you are blocks from home? This question has generated a media discussion throughout the Twin Cities and the surrounding suburbs. The debate is whether it is okay to throw a bag of dog poo into someone else's garbage can. Many people think it is acceptable, while many others don't. While visiting my son in Fargo I actually saw a woman take a bag full of dog waste out of her garbage can and throw it onto her lawn. Wouldn't it make more sense to leave it in the can?
Some people would rather have the poop bags put into their garbage than a fresh pile left in their boulevard. While others go full Clint Eastwood aka Walt Kowalsky from Gran Torino. "Get that out of my garbage."
All I know is I am one of the converted. I would rather pick up after my dogs than leave a mess for someone else to step in. Hopefully after reading this some others will feel this way, too.
Blocks provide you with everything you need to build a larger page. They contain a variety of content elements, such as images, buttons, headings, and more. These elements are arranged in rows and columns, which provide a useful structure, as well as a sense of balance within the overall composition. You can modify this structure using our intuitive drag and drop interface, which allows you to rearrange content to your heart's content.
Author has passion for teaching, comedy
By Craig McEwen West Fargo Pioneer
Chad Filley loves to make people laugh.
Working with youth is another of his passions.
The 1985 West Fargo High School graduate incorporates both disciplines into daily life as a social studies teacher, comedian, and author.
His recent book of fiction, "Bored of Education: A long ride on a short bus," offers humorous insight into teaching at imaginary School District 666.
Filley will be hosting a book signing at the Silver Dollar Bar & The Flying Pig Grill, 221 Sheyenne St., from 6 to 8 p.m. Sept. 27.
He has taught social studies for 17 years, coached high school basketball and has been making people laugh for about five years, he said.
Filley's stage appearance while giving a humor-tinted high school commencement speech sparked an interest in performing comedy.
"There were 5,000 people there. It was quite a rush," he said.
Filley credits West Fargo High School social studies teachers with stoking his passion for history and government.
It was English teacher Jane Haro who inspired him to become a teacher, he said.
"I was just having a rough time. I thought she was probably going to lower the hammer down," he recalls. "Instead she was compassionate. I think I've tried to model that."
He graduated from North Dakota State University in 1991 with degrees in mass communications and teaching.
Filley taught at Osakis, Minn., and Norman County West at Halstad, Minn., before moving to Cambridge-Isanti (Minn.) School District 12 years ago.
Filley, the comedian, does about 50 to 60 performances a year at comedy clubs, colleges, corporate events, churches and bars stretching from the Midwest to California, Nevada, and Alaska.
"I've performed at Courtney's Comedy Club (Moorhead) a couple of times and The Silver Dollar (West Fargo) a couple of times," he said. "The problem is comedy is on the same schedule as the school year."
Filley's routines include talk about family, being a dad, his three dogs and a cat, and teaching, he said.
He has his favorite comedians.
"I really like Jerry Seinfeld, his observations," he said.
"I admire the blue-collar guys, like Jeff Foxworthy, that can get up there and crank out the jokes."
He appreciates George Carlin's wordplay. "His stuff is intelligent," Filley said.
The key to comedy is finding something that large groups will find funny, he said.
"If you tell a joke and 50 percent of the people laugh, it's a good joke," he said.
He and wife, Jane, have three sons and a daughter.
"They contribute to my humor in their own way," he said.
Classmates and friends have been very supportive and attend his shows. "It's like a class reunion," Filley said.
West Fargo High School grad takes comedy to new level
Filley to headline Courtneys in Moorhead
By: Karen Huber, West Fargo Pioneer
Chad Filley will be returning to his roots in a whole new role – as successful, stand-up comedian – taking the stage for five performances in three evenings on Thursday, March 8 through Saturday, March 10, at Courtney's Comedy Club, 600 30th Ave. S., Moorhead, Minn.
A 1985 graduate of West Fargo High School and of NDSU in 1991 with degrees in mass communication and education, Filley is now happily balancing his professional enjoyment of teaching grade 9 and 12 social studies at a Twin Cities school, and performing comedy at a variety of venues, with his eventual goal of bringing laughter to everyone he comes in contact with.
Since the fall of 2010, he has accomplished pretty much just that, taking the Minnesota comedy scene by storm, appearing in numerous comedy clubs in the Upper Midwest, California and Las Vegas.
Filley said this venture really shouldn't surprise anyone because "people that know me know that I have a sense of humor and that I like to make people laugh."
His material is inspired by everyday life experience that is the off-shoot of marriage, parenthood, teaching and coaching, and last but not least, firefighting.
Filley lives north of the Twin Cities metropolitan area with his wife, Jane, their three children, three dogs and one cat.
His parents Archie and Connie were longtime West Fargo residents who now make their home in Custer, S.D.
Filley's shows at Courtney's Comedy Club where he will be appearing with headliner Charlie Wiener (a very funny veteran of the comedy circuit), will get underway on March 8 with one show at 8 p.m. and two shows on Friday, March 9 and Saturday, March 10 at 8 p.m. and 10:30 p.m. Reservations can be made by calling 218-287-7100.
Gain a little more insight into what it takes to juggle two highly successful careers, all the while conjuring up some entertaining humor in the process, via a candid question and answer interview with Filley that also lets his sense of humor shine through. More information is also available on his website at www.chadfilley.com
Q: When did you actually realize you could pull off funny?
A: In high school I wrote a column in the school newspaper (The Packer) so my classmates voted for me to give the commencement address. I loved the intoxicating rush of having 5,000-plus people laughing at my speech. It became a bucket list for me and I finally did it in 2010.
Q: When and why did you decide to get into the stand-up comedy?
A: On my wife's encouragement, I took a class from a Twin Cities comedian that met once a week for six weeks. At the end of the class we had a live show at a comedy club. It went well and I was hooked.
Q: How time demanding is it to accommodate these comedy play dates?
A: I try to limit myself to mostly weekends, but occasionally a weeknight gig will come up. Then there is the time spent writing and practicing material. Truth is, you never know if a joke's going to work until you try it in front of an audience. Fortunately, I have a live audience that I face every day in my classroom, complete with hecklers. If I can make seniors in high school laugh, I can make anybody laugh.
Q: Sounds like your comedy routines stem from life's lessons. Any SPECIAL inspiration for your humor?
A: Definitely my teaching experiences and my family have taught me a great deal and given me new ways of looking at things. Sometimes jokes just happen. The clue is identifying what would be funny on stage. Anecdotes aren't always funny if "you had to be there." Also street jokes (ones people tell around the office) don't work on stage. It's a different type of setup and punchline process.
Q: Do you write fresh material for each show? Do you shift gears to appeal to specific audiences or how does that work?
A: I have my standard material, but I'm constantly working on new material. I always try to accommodate some material for special groups. Recently I performed at a Nudist Colony located near where I live. I was really nervous about it, so to ease my nerves I imagined the audience with clothing on.
Q: If this a labor of love or are you compensated well?
A: It started as a labor of love but I am starting to make some waves in comedy and earn some decent money. My short-term goal is to make enough money so I don't have to supervise so many extracurricular activities. Long-term I would like to do this full-time.
Q: Explain the significance
of the co-founding of Laughter 2 Fight Lymphoma. From what I read this came before your dad's diagnosis. Was it because of a friend?
A: Tony, a friend of mine and my wife, Jane, has been battling Lymphoma for over ten years. We decided to do a fundraiser to raise money in the fight against Lymphoma. We made $3300. Then my father, Archie, ends up getting Lymphoma (I even had to get checked out to see if I had it). All I can say is the way this went down, I'm glad I didn't do a benefit for prostate cancer.
Q: With your teaching position and family and pet demands, you have to be busy enough already. How do you balance everything with the comedy gigs also?
A: Life gets pretty busy at my house. I worry that sometime I'm going to run into myself rounding a corner. This past winter I have had a gig or two every weekend, coached my son's 8th-grade travel basketball team, coached the high school mock trial team which is in the region finals, and I am the school's newspaper advisor. I also try to spend time with my lovely wife and three dogs. Oh, and did I mention that I am a full-time teacher?
Q: It also goes without saying, your family is supportive. In what special ways do they help you out?
A: They give me all kinds of material. One of my son's once asked me in August if I would homeschool teach him. I told him as a teacher there is no way I would homeschool. He wondered why not and I explained that he already ruined my summer vacation, why would I let him ruin my whole year.
Q: How excited are you about performing in your old home turf at Courtney's?
A: I can't wait to see everyone. I found out that Chris Heise had recommended that Courtney's get in touch with me. I am grateful to him for this. Courtney's is the only comedy club in the F-M area, so I am excited about coming home.
Q: Are you expecting to see a lot of familiar faces?
A: I am really looking forward to seeing many friends there. I hope it turns into a Packer All-School Reunion. Facebook has allowed me to keep in touch with many of my F-M friends and I'm anticipating seeing many of them.